It has been quite some time since I have last did a tag... I found this tag when I was browsing videos of a blogger that i really like, her name is
Jen
, click on the link if you are interested.. have been quite hooked on online celebrities lately.. blogger, youtubers, twitterers... I have always enjoyed doing tags because they don't require much thinking and all you have to do is answer the tag.. your content is already outlined for you.. instead of cracking your head and killing your braincells thinking of something interesting to write about, tags are a great way to keep you blog alive and it will not bore people too much..
unless you do it too often.. it might kinda annoy people, but i don't mind.. so if you don't care, just do more tags in blog posts.. it keeps ideas flowing.. who knows you might suddenly think of some cool topic to write about..
This tag is about perfects and imperfections... Let's first look at my imperfections.. I like to have the bad news first before the good ones because knowing the positive might be able to overcome, overlap or balance up the negativity...
I'm listing 3 each.. so here goes..
Firstly, I have crooked pinky toes.. they look something like this...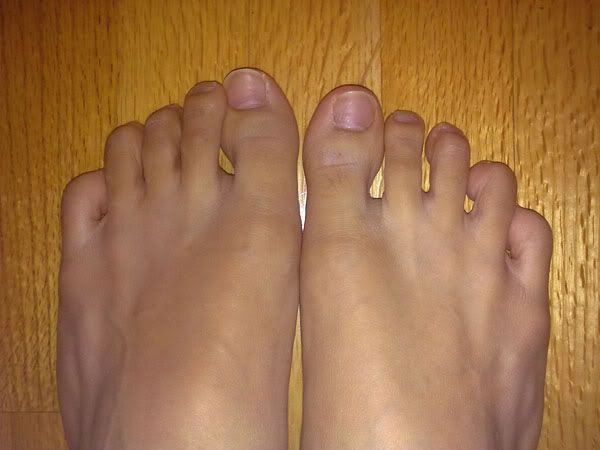 See the pinky toe is crooked inwards.. it may not seem like a big thing to you but it really bothers me when I'm wearing heels or shoes with a narrow front.. as you can see, the pinky toe is crooked inwards so the "body" of the toe faces out, means if you wear heels or shoes with a narrow front for too long, or if you walk too much, the "body" of the toe will rub against the side of your shoe or heels causing friction that will be very painful and also cause blisters which are very uncomfortable, especially when you can't take off your shoes...
Secondly, I have really fat thighs that I have been complaining all my life...
and fat thighs are prone to cellulite.. well, fat thighs are not something very nice to look at to start with... and i have a decent length of legs which I would love to show off it it wasn't this fat... and a lot of my jeans will fit nicely on the waist but it will be super tight on the thigh and hip area.. especially when you are sitting down.. my skinny jeans felt like they are gonna burst anytime...
Last but not least, I can't draw to save my life...
This includes matching colours, styling and many other things that requires art sense.. I guess that's just a handicap.. I used to aspire to be an artist, which seems like a huge joke now realising that my drawing skills aren't even elementary level.. well, that was because I used to.. erm.. actually I still do.. enjoy Art Attack by Neil Buchanan... If you know about Art Attack.. Neil is really an amazing artist.. he could create art out of anything, literally speaking... so seeing him do so many amazing things really inspire you to be like him.. however, i have accepted the fact that I can't draw at all.. if you see nice pictures "drawn" by me, those are most probably traced.. hehehe...
Ok, now we'll move to the perfect stuff.. but these are just things that I am happy and satisfied about myself.. not that I am saying that it is perfect or something...
Number 1, despite my handicap in drawing.. I am quite good with words and writing..
and it's something i really enjoy doing... i started writing my own stories since I was 10.. I used to watch TVB dramas and try to add a character in, just to put myself into the story.. for fun's sake though... self amusement.. I have been quite proud of the ideas i have produced.. although a majority of them are not complete YET but I am really passionate about writing.. and will never stop writing...
Number 2, I am quite satisfied with my height now... although I complained before that I am not tall enough.. but many people who look at me will think that I am taller than I actually am.. which is nice, in a way that I look tall to balance up the fact that I am not tall enough..
I am 5'5...
Number 3, I am quite satisfied with my skin colour.. it is slightly on the fair side..
although I am always looking for ways to be fairer but even if i could not go any fairer, i am happy to accept my current skin colour.. I guess this is due to the fact that i stay indoors alot, i hardly go outdoors out in the sun, so i think that's why i could maintain my skin colour to the fairer side... oh well, i enjoy staying indoors anyway.. so no complaints..
So that's all for my perfect imperfections.. i might do another tag if i manage to find one that is interesting...
till then
Signing off...
toodles!